By signing up to this New Years promo, you will receive a $400 credit to your future TRT costs! * Per the promo, 6 month obligatory engagement.
How can you get hormone therapy without going to a doctor?
As the health and wellness industry continues to explode, so has demand for Hormone Replacement Therapy (HRT).
READ MORE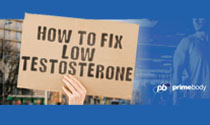 Why You Have Low Testosterone….and What You Can Do About It!
Low testosterone is very common among men and is nothing to be ashamed of. Most people accept hormone imbalance as a normal part of aging and suffer from the consequences in silence.
READ MORE